How do I change my name after I get married?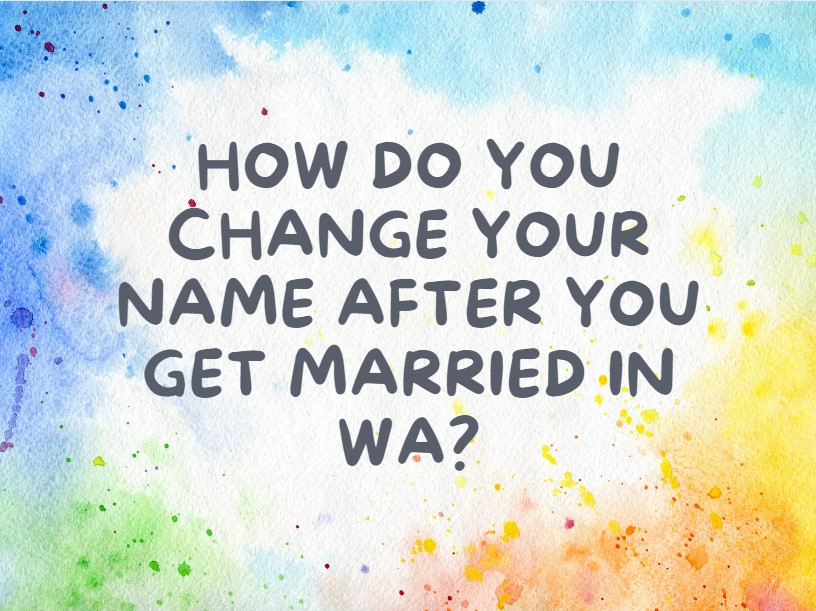 While not compulsory, many people choose to change their name after they get married, to their partner's surname. Anyone can change their name, regardless of gender identity, and you have the option to change your surname or do the double-barrel surname of yours and your partners', with or without the hyphen.
Confused? Yes sorry, there are plenty of options, and you can choose whichever is right for you. Here are the basic options:
Keep your name – no need to do anything – woo!
Change to your partners' surname – see changing your name 'by custom' below.
Double barrel your surname (with or without a hyphen) eg Sarah Green-Smith or Sarah Green Smith – see changing your name 'by custom' below.
Create a completely new surname together eg Sarah Smitheen or Sarah Greensmith etc – see official name change below.
I have broken it all down for you below.
'By custom' – Changing your name 'by custom' after marriage in Western Australia
The process is actually a bit different in each state or territory. As I am based in Western Australia and perform the bulk of my marriage ceremonies here, I am going to give you the low down for Western Australia.
Changing your name 'by custom' means you are aodpting your new married partners surname or double barreling your name. This is the most common way people choose to change their name after they get married.
You do not need to change your name 'by deed poll' or officially change it, you can use your registered marriage certificate.
Marriage Certificates Explained
On the day you get married, you sign three marriage certificates.
Official Marriage Certificate – this is kept by your marriage celebrant as a record of the marriage.
Official Marriage Certificate with the Declaration of no Legal Impediment on the back – your marriage Celebrant forwards this to the Registry of Births Deaths and Marriages WA who officially record the marriage.
Presentation Marriage Certificate (formally known as the Form 15) – this is the 'pretty' certificate you sign and receive on the day to keep, as a record of your marriage.
Now here is the fun part – none of these certificates can be used to change your name.
Following your marriage ceremony, your celebrant will forward the marriage details to the Registry of Births, Deaths, and Marriage WA to officially record the marriage.
You then need to allow a minimum of 14 days from the date of marriage before you can apply to the Registry for your official registered marriage certificate. This will allow the marriage registration process to be completed.
Apply Online for your Registered Marriage Certificate
After waiting the minimum time frame (14 days) apply online at The Registry of Births, Deaths and Marriages.
Once you have this registered marriage certificate, you're in business! You can use this form for all the official places to change your name, including banks, the department of transport etc.
Creating a completely new name together
If you have chosen to both change your names to something completely new, you don't need your marriage certificate.
You will both need to apply for an official name change through the Registry of Births, Deaths and Marriages in Western Australia (WA) to change your names and get a Change of Name Certificate.
This involves filling out a form in which you will need to tell The Registry your current name, what you are changing to, any previous names, and any marriages. There will be several forms of ID needed, which depend on your circumstances.
You can get more information and apply online from the Registry here.
List of places to change your name after marriage
Don't hate me, but this is a long list. Each organisation has a slightly different process, but it will help to have your registered marriage certificate or change of name certificate scanned and ready to send or show in each scenario.
Driver's licence.
Bank accounts.
Credit cards.
Medicare
Your employer
Passport.
Australian Electoral Roll (AEC)
Australian Taxation Office(ATO)
Centrelink
Utilities (electricity, gas, water)
Communications (mobile & home phone)
Internet
Pay TV / Netflix
Insurance (car, house, health, life, income protection)
Superannuation
Investments and shares
Frequent Flyer
Loyalty Clubs
Auto clubs (RACV)
Sports clubs (racing clubs, football clubs)
Memberships (library, gym, etc)
Magazine subscriptions
Australian Business registrar (if you are a director of a company)
Local council (if you pay rates)
Landlord/agent (if renting) and rental bonds
Alumni (university, high school)
Your children's school (if applicable)
Professional services (your accountant, lawyer, health care specialists)
Online (Facebook, ebay, LinkedIn)
Australian Organ Donor Register
Pet microchip company
Voicemail
Your will (marriage immediately voids any prior will)
All a bit much? There is a handy company called Easy Name Change that can guide you through the process, you can check them out here.
FAQs
Is there a timeframe to change my name?
Nope! You can change your name whenever you are ready, and there is no 'deadline' to do this, so take your time and enjoy your honeymoon first.
When can I start using my new name?
You can start using your new name straight away (update your Facebook profile etc) but you will need your registered marriage certificate to start changing on all your paperwork.
Looking for a Western Australian Marriage Celebrant?
Sarah Green is a Perth based Marriage Celebrant, who helps all couples in love tie the knot, in a fun, personal ceremony, unique to each couple. Contact Sarah here.
Zein Estate Wine Review
I was lucky enough to try some of the wines from Zein Estate recently. As you know I am not a professional wine reviewer, but here are a few of my favorites (in my own words) that I enjoyed with...