Dog-Friendly Wine Tasting in Margaret River: A Dog's Guide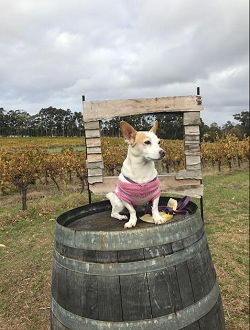 Hi, my name is Emma, and I am a 7-year-old Jack Russell. My humans really love wine tasting, so I often take road trips with them to different wine regions.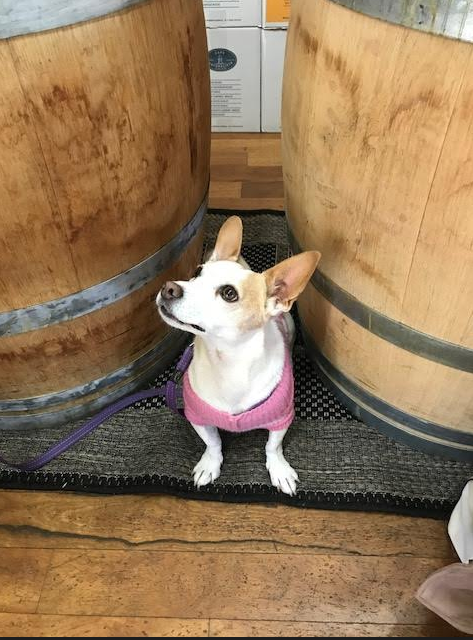 Emma amongst the barrels at Cape Naturaliste Winery
Now if there is one thing I hate, it's being left outside! That's why I absolutely love when there are dog-friendly cellar doors, which allow me to go inside, and be part of the fun! Recently I went with my humans on a day trip to the Margaret River wine region, where I visited some great dog-friendly cellar doors! Here is my recap of the day…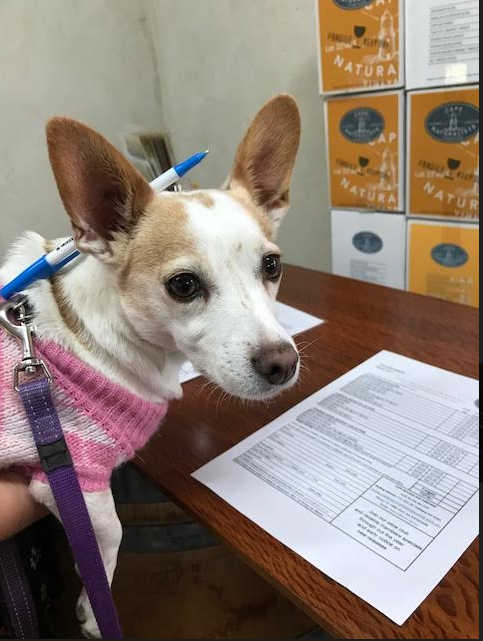 Picking some wine at Cape Naturaliste Winery
Cape Naturaliste Vineyard
Stop One on our itinerary was one of my absolute favourite Cellar Doors, Cape Naturaliste Vineyard. This Cellar Door is a great spot, just off Caves Road in Yallingup. The building is situated amongst the vines, so there are plenty of things for me to sniff and scratch on my way inside. Cape Naturaliste is also home to cellar door pup Max – who is happy to greet two and four-legged visitors, whenever they arrive.
As I have visited this Cellar Door before, my photo is up on the wall (I'm basically a celebrity in these parts)! The vineyard owner Jen takes photos of all the dog visitors with her polaroid camera, so there is a lasting memory of your visit (there are now hundreds of photos on the wall, and it's still growing). She also has lots of treats for us behind the counter, which was an extra incentive for me to return!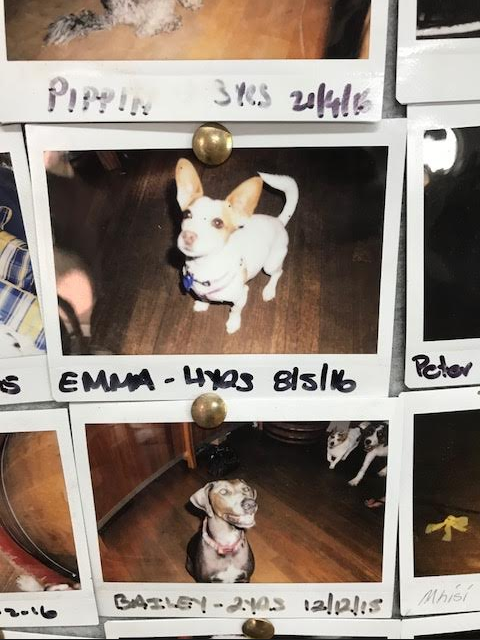 Emma on the Dog Photo Wall at Cape Naturaliste Winery
I don't drink wine myself (my vet has me on a health kick) but my humans raved about the 2013 Cabernet Sauvignon, and I saw them pick up a couple of bottles. The Muscat is named after Monty, Cape Naturliste's recently passed and much loved Jack Russell (Vale Monty ❤), she also features on the label, which is pretty cool – how come my humans haven't done that for me yet??
I had a great time on our first stop, and can't wait to catch up with the Cape Naturaliste Team again soon!
Cape Naturalist Winery Cellar Door Info: 
Open 7 Days: 10.30am – 5pm
Tel: (08) 9755 2538
1 Coley Road (entrance off Caves Road), Yallingup WA 6282
Juniper Estate
Juniper is a lovely family-owned winery, with spectacular gardens. On my way in I took my time to stop to smell all of the interesting flowers and plants. Inside the Juniper Estate Cellar Door Manager, Steve was really friendly, and he let me sit and watch while my humans did their tastings. There were also some interesting books for me to look at (I can't read yet!) including the Wine Dogs book, definitely some cool dogs in there!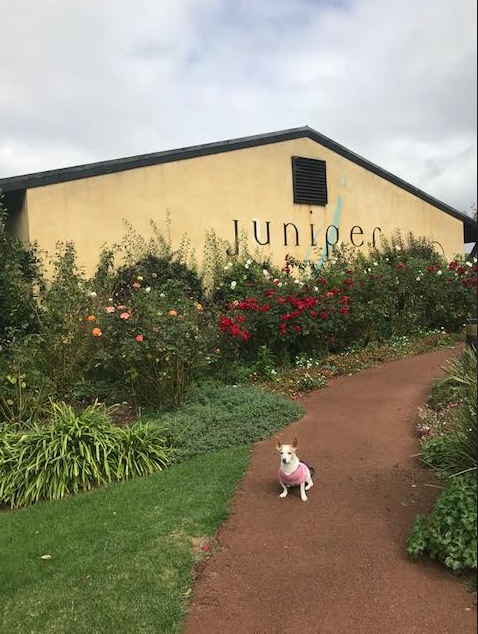 Amongst the gorgeous garden at Juniper Estate
My humans were big fans of the 2016 Tempranillo and also the 2015 Semillon. One of my other humans had recently been on a big fishing trip, and they planned to pair the Semillon with some delicious dhufish (my favourite food in the whole wide world is fish, so hopefully I get to have some).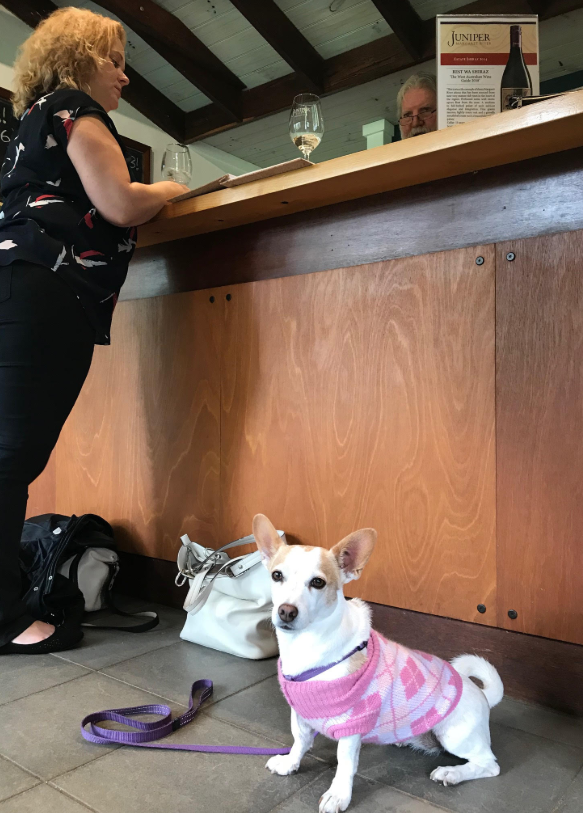 Wine tasting at Juniper Estate
Juniper Estate Cellar Door Info:
Open 7 Days: 10am – 5pm
98 Tom Cullity Drive, Cowaramup WA 6284
Tel: (08) 9755 9000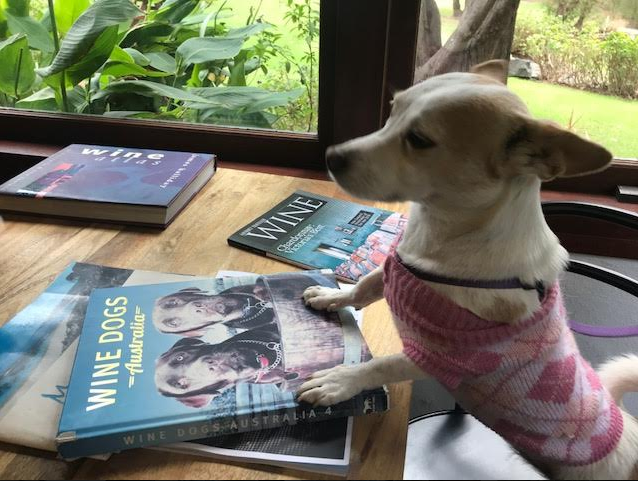 Catching up on the latest in Wine Dogs Australia
Montague Estate
Montague Estate was a gorgeous winery, with plenty of green grass for me to run around on. I was very warmly invited into the Cellar Door by Mary, who gave me plenty of pats and attention, which made me a big fan! I could tell Mary was very proud of the wines she was showing to my humans, and from what I could tell, they loved pretty much all of the wines on offer!
Viticulturist dog Roy at Montague Estate
Montague Estate Cellar Door Info:
Open Weds-Sun: 11 am – 5 pm (or by appointment)
325 Tom Cullity Drive, Wilyabrup, WA 6284
(08) 9755 6995 | info@montagueestate.com.au
Hayshed Hill
Phew – stop Four already! Hayshed Hill winery is huge! Lots of outdoor tables with mini-humans running around everywhere. Do you know the best thing about mini-humans? They love me! We had great fun running around on the grass, while their parents sat and ate lunch, which looked like some delicious Spanish style tapas.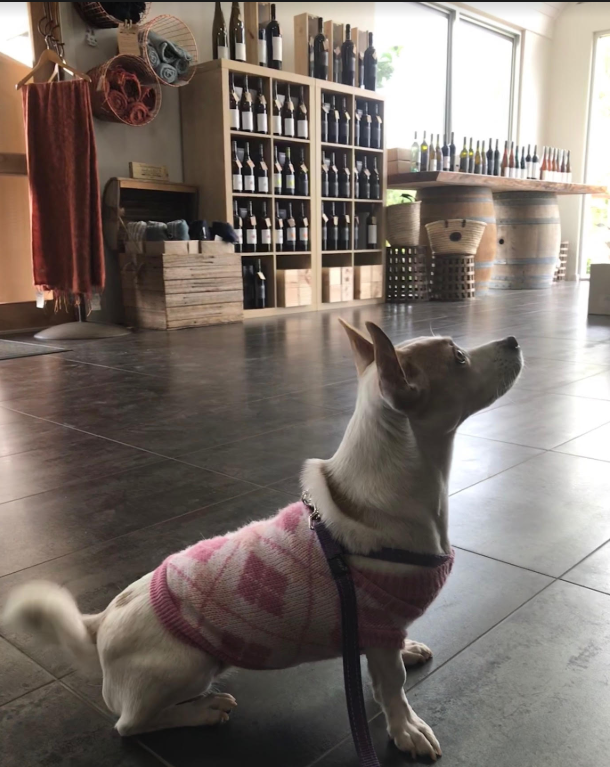 Hay Shed Hill Winery
My humans had a great time here too! There are loads of interesting wine varietals to try, along with browsing the artwork and other unique items for sale in the Gallery.
Hayshed Hill Cellar Door Info:
Open 7 Days: 10-5pm
Phone 9755 6046.
511, Harmans Mill Road, Wilyabrup, Western Australia, 6285, Australia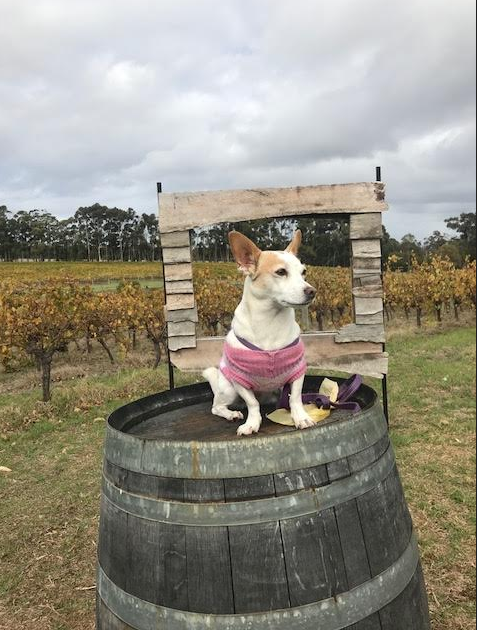 Hay Shed Hill Winery
Stormflower Vineyard
Hello Stormflower! This Cellar Door was great, as my humans relaxed at an indoor table, where the Cellar Door Manager ran through the wine with them, which meant I could wander around entertaining myself. Sitting on top of a hill, the Stormflower Cellar Door has some great views of the vineyard and the gardens were great for sniffing! My humans love the red wine here and purchased a few bottles of the Cabernet Shiraz.
Stormflower Vineyard Cellar Door Info:
Open 7 Days: 11am – 5pm
Lot 3503 Caves Road, Wilyabrup, WA 6280
Tel: 08 9755 6211
Snake & Herring
Ok, I'm going to be honest, I was getting a little tuckered out by now, I think six Cellar Doors in one day is my limit! So glad we stopped into Snake & Herring on the way home though! This winery (formerly known as Fishbone) is a great location on Caves Road. The Cellar Door has an awesome grassed area to run around in, and I had plenty of plants and bushes to sniff before going inside.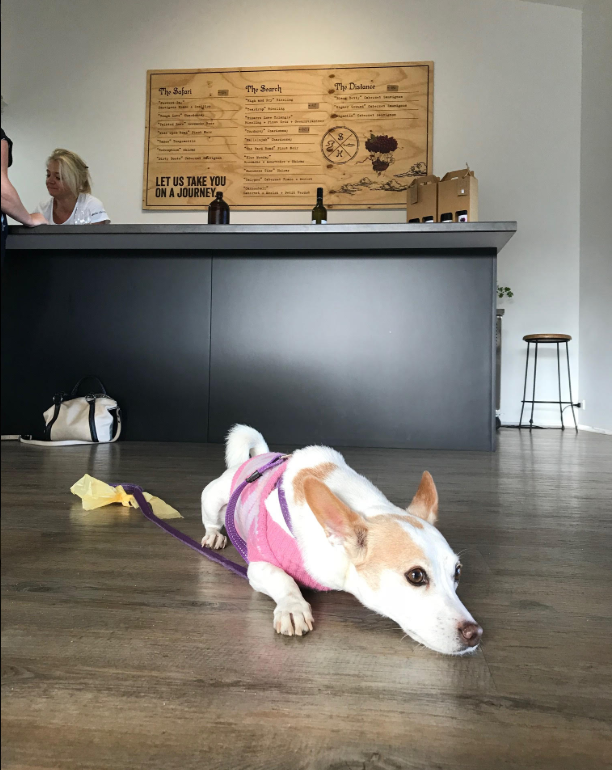 Snake & Herring Winery
Snake & Herring source their grapes from several different wine regions throughout WA, with some very interesting wines for my humans to sample. They ended up purchasing a bottle of the Cabernet Petit Verdot Merlot, which they seemed to thoroughly enjoy drinking when we returned home!
Snake & Herring Cellar Door Info:
Open 7 Days 11am-5pm (close 4pm in Winter)
3763 Caves Rd, Wilyabrup.
ph 0427 881 871
Great day of Dog-Friendly Wine Tasting in Margaret River!
That completes the list!
What a day! I had so much fun meeting all of the lovely humans in these cellar doors, and really appreciated them letting me be part of the action!
Do you know any great dog-friendly Cellar Doors? I would love to hear your suggestions of great places to take my Humans next! I hope you have enjoyed hearing about my wine tasting adventure – take care and bye for now!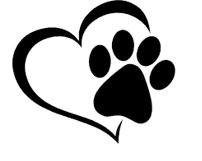 Emma xx
Some Tips from Emma's Humans
While all of these Cellar Doors mentioned were more than happy to have Emma inside, it's polite to send in a human first, to double-check they are happy to have a dog in the Cellar Door. While she has a huge personality, Emma is a very little dog, so there might be some different requirements around larger dogs in the Cellar Door. There might also be someone inside who is allergic/fearful of dogs, or already another dog inside – so send a scout in first to double-check they are happy to have you and your pooch.
Also, there is quite a big list of "dog-friendly" wineries on the Margaret River Tourism website. However, many of these are only for the outside areas. So it pays to check ahead with the winery or brewery, to avoid disappointment.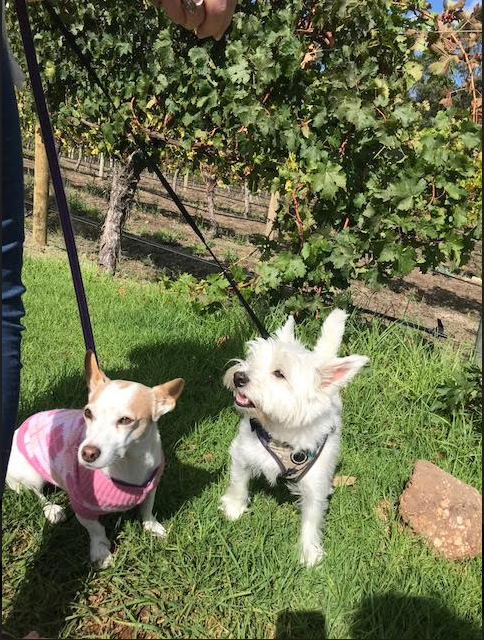 Catching up with Albie at Cape Naturaliste Winery
Travelling with Dogs
Wine tasting days are awesome but can be quite long (if you're wine-o's like us), so make sure you adequately prepare your pup for the day. Ensure they have a comfy bed or designated area in the car, in which they are comfortable travelling in for the day. Also, make sure you take water and some snacks, to keep them hydrated and happy for the day (most of the cellar doors also had water bowls provided).
Call ahead to check if the Cellar Door allows dogs, or have a spare human handy, who can wait outside with your pup, while the rest of your group goes in for a tasting.
Finally, don't leave your dog in the car! A dog can suffer heat stress, or worse, within minutes in a hot car, so don't take the risk. With so many dog-friendly wineries, there is really no need to leave them in the car.
How do I change my name after I get married?
While not compulsory, many people choose to change their name after they get married, to their partner's surname. Anyone can change their name, regardless of gender identity, and you have the option to change your surname or do the double-barrel...