2020 Isolation Weddings – Don't Let COVID-19 Spoil Your Big Day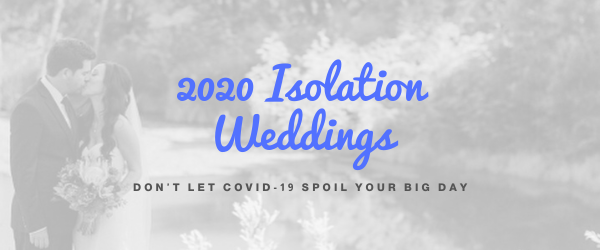 I am absolutely gutted by everything that is going on in the world right now, with a special mention to couples with weddings in the next few months. Planning a wedding can be stressful enough, without adding everything 2020 has sprung on us!!
While it is a massive disappointment that we all can't celebrate our weddings and other events as planned, I am sure you would agree this is in the best interests of keeping everyone we know and love, healthy and safe.
The five-person limit at weddings has really made it tricky for a lot of couples who had their hearts set on celebrating in front of all their loved ones. So, what can we do? Get creative – that's what! Welcome to 2020 Isolation Weddings.
All the Options for Your 2020 Wedding
There is no right or wrong choice for engaged couples, who were planning on getting married in the next few months. It's an unprecedented situation, so whatever you choose is totally fine. So firstly, let's look at your three main options:
• Option One – Let it Go
I guess your first option is to consider cancelling or postponing your wedding indefinitely. I completely understand this may all be a bit too much for some couples, which is totally fair enough.
Make sure you read all the T&Cs for any supplier you have paid deposits to and try and work with them to get an outcome that is fair and reasonable for all parties.
• Option Two – See You in 2021
Tell all your suppliers to keep their deposits and book them in for the same date in 2021 (if possible). That way you can still get married on, or close to, your chosen date (albeit in 2021) and have your Wedding, in front of all your loved ones, exactly how you planned it (book your bucks and hens do's for a year from now too). Maybe send a fun, re-wedding invite with the updated details.
Your NOIMs are valid for 18 months from when you first completed them, so confirm with your Celebrant if this will still be valid a year from now (you may need to fill out a new one).
• Option Three – Isolation Wedding
Weddings can still go ahead with max 5 people (as long as social distancing rules are adhered to) so this includes the couple, their two witnesses and your Celebrant (Moi). If you decide to go ahead, we can still make it a really special day for you both, so let's look at some creative ways to celebrate your Isolation Wedding.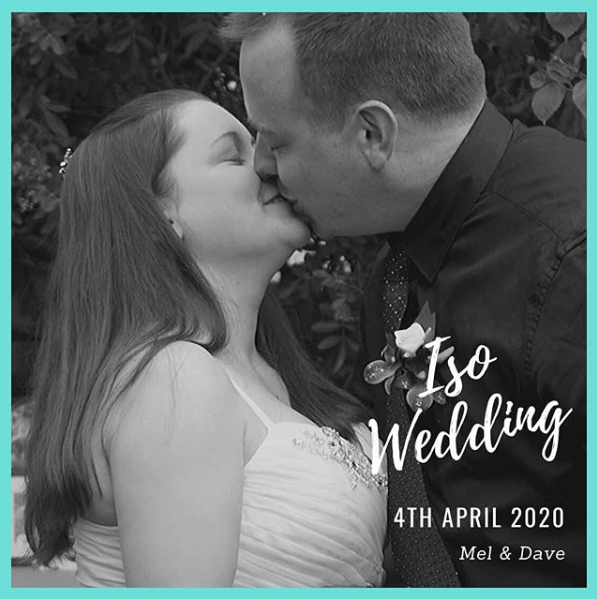 @weddingsnwine Congratulations Mel & Dave! It was an honour to be part of your "Party of 5" today. Wishing you a whole year of wedded bliss until I see you again >> this time next year for your vow renewals & epic celebration in front of all your loved ones, exactly how you imagined it! #isolationwedding #perthwedding #perthcelebrant
Your Isolation Wedding: Party of Five
Still going ahead with your original wedding date? Great! There is nothing stopping you from having a special wedding day, on your planned date over the next few months. Let's face it – you will have a very unique story to tell in years to come.
So, what can we do to make this day special? Let's look at some unique options for your Isolation Wedding >>
• Go Live – Stream Your Ceremony
Thanks to free video conferencing platforms, there is nothing stopping you from streaming your wedding to all your loved ones. Send out the details to your family and friends and get them to tune into your wedding. Not sure which platform to use? The below are great options, but there are plenty of others too, so pick the one which works for you and your guests:
Facebook Live – a great option as it is a one-sided live stream in which everyone can watch the screen with just you (rather than the Brady Bunch grid of faces you get on some chat platforms). It also records so guests can watch again later.
Zoom – you can send a link for everybody to join and just mute all participants except you.
Microsoft Teams – similar to the other platforms, you can send a link for everyone to join your chat and mute all participants, so they just hear you.
I recommend having a test run the day before with one or two people, to make sure it all goes smoothly and the links work, to avoid disappointment on the day.
Don't forget to stand close enough to the device so that everyone can clearly hear the audio. Ask your Celebrant to stand on the other side of your device, behind it (so you are facing the screen and your Celebrant). This will be a great way for everyone to get a good front-row view of you both, while clearly hearing both you and the Celebrant during the ceremony.
• The Outfits
You probably already have your outfits sorted, so wear them! There is something magical about putting on a wedding dress or tux that really makes it feel like a special day. Plus, you still want to have some wedding photos with you both looking dapper.
• The Location
The new guidelines recommend an open-air venue, so this can be any park, beach or backyard, wherever feels comfortable for you.
I actually love the idea of getting married in your front yard (if you have a quiet enough street) so your neighbours can be long-distance guests! Everybody loves weddings, even if they have to watch them from their own driveways!
Really depends on you, but I can see a great street party happening here. Why not let them know when the Ceremony is taking place, so everyone can stand in their driveways and help you Celebrate.
• Include Your Pets
The five-person rule obviously doesn't apply to your fur babies, so these guys are extra guests! I recently performed an Isolation Wedding were the adorable border collie cross was the best man, with bowtie and all. If you are getting married at home this is an easy and safe way to include your pets.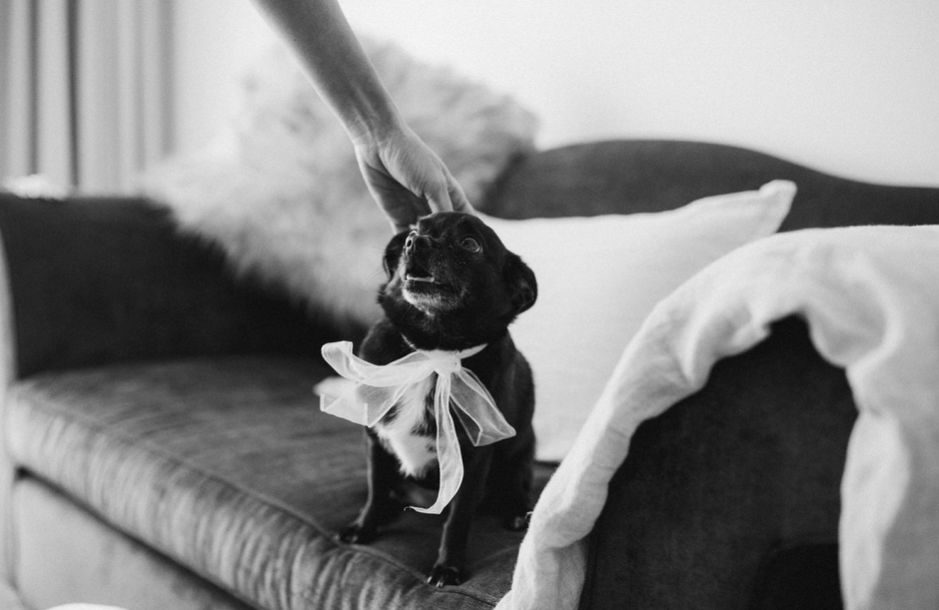 Cutest bridesmaid ever!
• The Ceremony
As far as your Ceremony goes, not much has to change really. Your wedding script can be exactly the same or modified if you prefer, you will still say your legal vows as normal and can add in any other personal touches. Have a chat with your Celebrant about any fun Iso jokes you want to add (or not) and I am sure they will help you create a ceremony unique and special for you both.
• Photos
You still have three people here (your witnesses and Celebrant) who can help you capture some happy snaps! Just make sure everyone has hand sanitiser on the ready and you keep your social distancing in place.
• Isolation Wedding Music
We can still have a walking down the aisle song (or maybe walking down the driveway?) and play some celebratory music at the end. But why not take it up a notch? Many local Perth music artists are offering to turn up to your event and sing or play from a distance, or even stream their session online.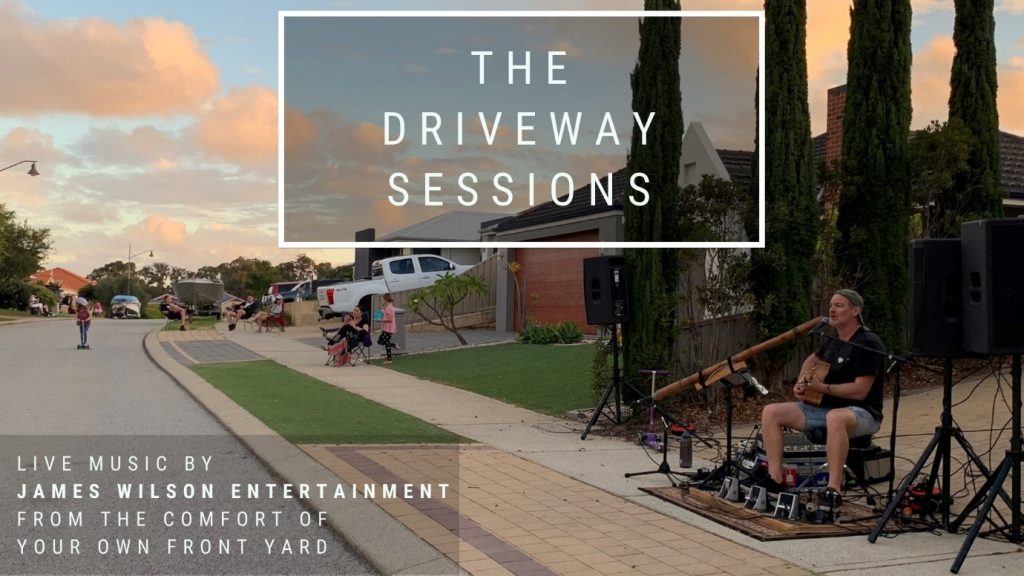 One local Perth music legend James Wilson is offering "The Driveway Sessions" he will turn up and play for you in your driveway or front yard. James is a well-known wedding and corporate entertainer. He manages to play the guitar, didgeridoo and a range of other instruments while singing all your favourite tunes.
Not only can you enjoy the music, but so can the rest of your street. I think this is a fantastic idea and would also be really great for birthdays and other celebrations which have had to be postponed.
• Catering
Many of our favourite local restaurants and caterers are struggling right now, so what a great way to support your favourite local, by catering your Iso Wedding! You can have all food brought to your door with contact-less delivery. I love the idea of eating some fancy cupcakes while watching live music in your driveway, following your Ceremony. Consider dropping off some cupcakes or other treats to your neighbours too, so they can be part of the fun.
• Bridal Waltz
If you are getting married at home, why not give your neighbours cause for celebration, and do your bridal waltz in the middle of the street! This will make for some great long-distance photos on social media and will give friends and strangers something cheerful to see on their timelines.
Live in an apartment complex? Bust a move on your balcony with some music playing, to get the complex into the wedding spirit.
Celebrate Your Way
I know we will all get through this together and you will have an amazing wedding day (with a very unique story!) at a time that suits you while being healthy and safe for everyone.
I love being a part of weddings and would love to help you plan a celebration, be it in Isolation or a year from now when this is all over. So please feel free to get in touch and we can discuss how to make your special day, uniquely yours.
How do I change my name after I get married?
While not compulsory, many people choose to change their name after they get married, to their partner's surname. Anyone can change their name, regardless of gender identity, and you have the option to change your surname or do the double-barrel...